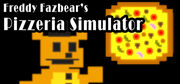 Freddy Fazbear's Pizzeria Simulator
 is the sixth and final installment in the 
Five Nights at Freddy's
 series. The game takes place sometime after the events of 
Five Nights at Freddy's 3
, and serves as the conclusion to the storyline of the series itself. It was designed to resemble an innocent spin off of the franchise, rather than part of the main line up, due to FNaF 6 having been reportedly cancelled.
Summary
Start your own Freddy Fazbear's Pizzeria with Freddy Fazbear Pizzeria Simulator!
Presenting a fun Five Nights at Freddy's adventure with a lighter touch for the holidays, Freddy Fazbear's Pizzeria Simulator puts you in charge of developing your own restaurant! Design pizzas, feed kids, and get high scores!
Gallery
Title Screens
OST
The music that plays in the beginning minigame.
The title screen music.
Video