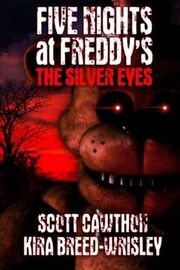 Five Nights at Freddy's: The Silver Eyes is a book based on the Five Nights at Freddy's games. It follows a young woman, Charlotte ("Charlie"), who reunites with her childhood friends on the anniversary of the tragedy that ripped their town apart. The book was written by Scott Cawthon and Kira Breed-Wrisley .
It has been confirmed that the book is non-canon to the games, and instead follows it's own continuity.
Major characters
The following is a list of the major characters on the book (INCOMPLETE; PLEASE HELP FIVE NIGHTS AT FREDDY'S WIKI BY EXPANDING THIS ENTRY)
The main character. She is 17 years old, and her birthday is on May 13th.
John
Jessica
Carlton Burke
Lamar
Marla
Jason
Aunt Jen
Michael Brooks
Donald Brooks
Joan Brooks
Harriet
External Links
http://fnaf-the-novel.wikia.com/wiki/Five_Nights_at_Freddy%27s:_The_Silver_Eyes